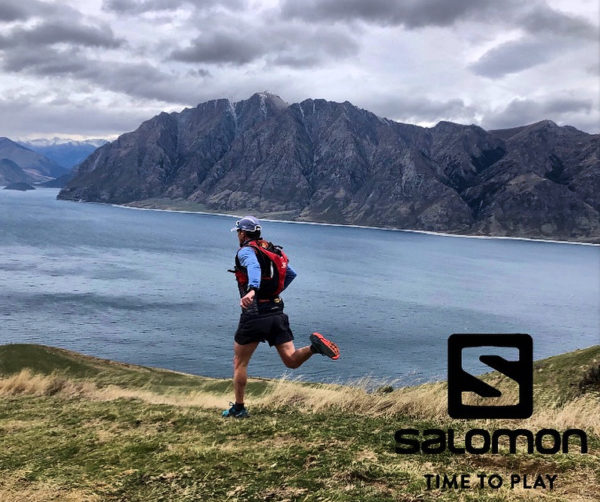 Salomon Mt Isthmus Traverse – Glen Dene Station, Lake Hawea
NOT LONG NOW!
With just over a week to go – don't overdo it! Enjoy some cruisy days in your final preparation for the event so you are fully charged and raring to go on Saturday 14th November 2020.
We're very excited to host this awesome event on the Glen Dene Station at Lake Hawea and share with you some of the best running trails New Zealand has to offer – not to mention the amazing scenery you'll get to experience throughout your adventure on the day.
All courses will offer a challenge, yet they'll be as challenging as you want them to be! You'll be sure to work up a sweat on the trails, potentially shed a tear or two (hopefully tears of elation!); and when you cross the finish line – we hope the sense of achievement combined with wow factor moments will leave you wanting more!
We're super excited to have Salomon as the events principal sponsor. Salomon is one of the worlds leading outdoor adventure brands. If there is anything you might need for the event check particularly compulsory / recommended clothing and gear – be sure to check out the website.
We hope you're ready for an awesome trail and mountain running adventure in beautiful Lake Hawea. Please take the time to read this final newsletter prior to next weeks event so you're fully aware and up to date with what is going on over the event weekend… Let the adventures begin!
PRE – EVENT REGISTRATION
4:00pm – 8:00pm – Friday 13th November 2020
The Camp – Lake Hawea
EVENT DAY REGISTRTION
7:00am – 10:30am – Saturday 14th November 2020
The Camp – Lake Hawea
GEAR CHECKS
Gear checks are compulsory for those participating in the 42km Mountain Marathon and 25km Hill Run. Please visit the website to familiarise yourselves with what clothing and first aid kit you are required to wear or carry in your back packs during the event.
Contained within your race packs you'll find your race number and electronic timing transponder as well as a Nature Valley Snack bar and Pure Blonde Beer.
EVENT DAY SCHEDULE
There are four awesome events on the day – each with it's own respective start time… Please take the time to visit the website for all start times and briefing information.
8:00am – 42km Mountain Marathon
9:00am – 25km Hill Run
11:00am – 10km Lakeside Trail Run
11:00am – 5km Lakeside Trail Run
START & FINISH
All events on the day start and finish in the same location at the far end of The Camp at Lake Hawea nestled amongst the trees opposite the large grass area…
GEAR DROP
All participants in the event will be able to leave a small bag containing personal belongings in a dry and secure location before the start of the event and collect post run by presenting your race number.
CAR PARKING
There is plentiful parking near to the start / finish line… Please look out for the car parking signs and follow instructions given by event officials.
WEATHER
We have been experiencing some very hot weather conditions over the last few weeks with periodic rainfall. The forecast is looking great for the event however with the nature of the event taking place in an alpine environment  – the weather can change at any time so please make sure you wear or carry all of the compulsory clothing and additional items as specified on the website for the duration of the event.
CHECKPOINTS / AID STATIONS
Participants are responsible to carry their own food and hydration for the event – however Water and Energy Drink will be readily available at checkpoints located approx 5km throughout the course and at the start / finish line.
The courses will be well marked with fluorescent pink tape and red directional arrows to guide you. Please follow these markers, do not deviate from the course and obey the instructions of the race officials at all times.
AWARDS CEREMONIES
There will be two awards ceremonies on the day of the event…
1:00pm – 5km  & 10km awards ceremony
4:00pm – 25km & 42km awards ceremony
CELLPHONE COVERAGE
There is patchy cellphone coverage at the start / finish area and throughout all of the courses although we would rather you enjoy the adventure as apposed to nattering on the phone so if you have easy access for your phone in your backpack – pack it!
PHOTOGRAPHY
We'll have photographers out on the courses however there are many locations you might want to snap your own memorable moments!
ACCOMMODATION
The start and finish for all events will be a The Camp at Lake Hawea and conveniently there is plentiful accommodation options available near to the start line inc camping, glamping, cabins and cottages. So if you're keen on staying on site and walk a short distance to the start line; The Camp at Lake Hawea is the perfect choice.
For reservations please contact the reservations team via email: reservations@thecamp.co.nz
Other accommodation options at Lake Hawea & Lake Wanaka
LOCAL ATTRACTIONS
Lake Hawea is every outdoor enthusiasts dream playground. With an abundance of lakeside trails and mountain hikes it's no surprise that many people visit the area year round for some fun in this amazing alpine environment.
Keep on Running – See you on start line!
For all info on Active QT events please get in touch to find out more…
Tel: 021 991 899    Email: adrian@activeqt.co.nz    Web: www.activeqt.co.nz